Inspired by the webcomic XKCD, we run a bot with a budget of $1/day that bids on or purchases items with free shipping from Ebay, Amazon and similar websites. Every day it is given a dollar for each user and tries to spend the entire budget to buy them a package.
Check out this video series for some of the packages bought by the bot.
Click here to sign up for the bot.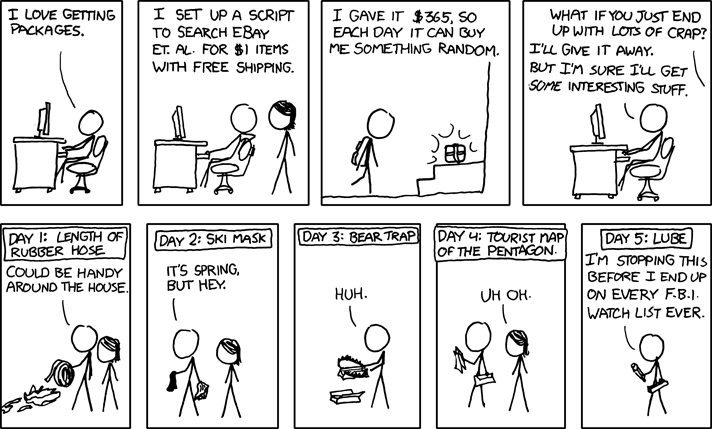 The packages bought vary quite a bit. A world pride keyring. Fishnet gloves. Tweezers for rhinestones. A headscarf. Wayfarer glassess with clear lenses. A Magic: The gathering card. Lots of ribbon. A bottle opener that doubles as a ring. A first aid kit. They are not big, but you get one every couple days. Some of the packages are interesting, some make good gifts and some are mundane or boring. They tell stories and start conversations. The real joy is in not knowing what you will be getting.
Expect regular delivery of items that are strange, whimsical, random, occasionally useful useful, entertaining and interesting. We have found the bot's packages a break in the day-to-day routine and so wanted to share it. This is an experiment in discovery and not for everyone.